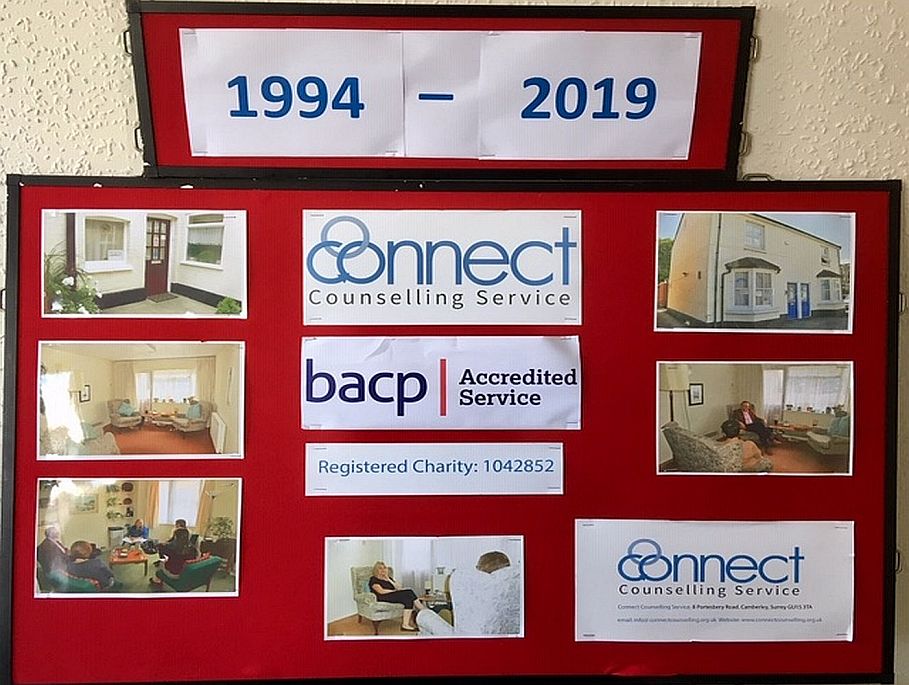 With the milestone of 25 years of counselling service at Connect, in this blog article, we look back over that time and also consider where we are now, with providing a counselling service to the community.
Looking Back
April 1993 to March 1994 was a research year, where we started laying the building blocks for our future – Planning, Investigation, Finance, Training, Publicity and lots of prayer. We prepared the foundations including setting up management structures and recruiting staff.
Once up and running, in 1994, we spent time evaluating the service we then provided and improving that service where we could in those early days. This would be an ongoing process, but we made improvements to the service as will be noted further down.
Connect Christian Counselling Service opened its doors to the community, with ten counsellors at the start – supported by office staff, supervisors and office helpers/ volunteers.
In addition to those early counselling sessions we provided, in 1994, Connect ran the Foundation course in Pastoral Counselling to build the counsellors we had and then in 1995, we moved to our current premises in Portesbery Road, which was more convenient for the train station and town centre of Camberley.
During the first 5+ years our first Director Chris Simons continued to raise awareness, fundraise and develop the service. The counselling Team increased from ten to 25 counsellors, along with the Supervision Groups in that time. As the service became more well known, more clients attended for Counselling.
In-service training days were held regularly, to support the counsellors in their continued professional development.
Our second Director, Theresa Lemonde took over from Chris in 1999, and steered the service into the next few years.
In 2001, Couples Counselling had been introduced, alongside the ongoing work with individual adults. Then in 2004 Family Therapy was added to the services available from Connect.
Cathie Russell became our third Director in 2003 and remains with us to this day. Things continued to grow in terms of counselling sessions and client numbers.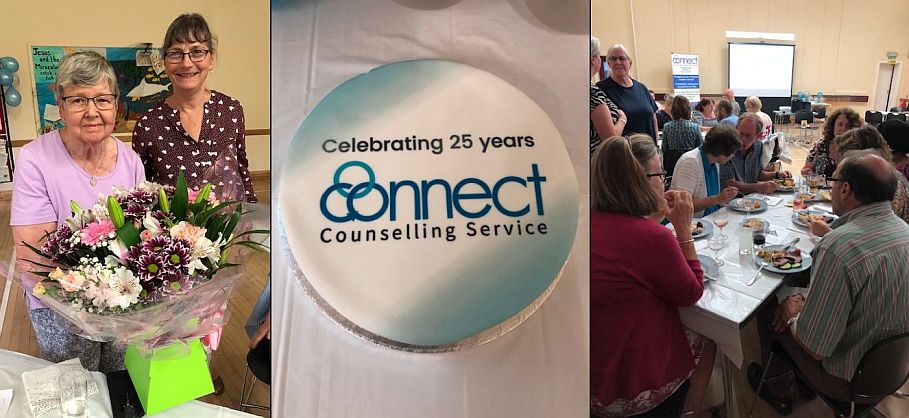 By 2014 it was felt time to rebrand Connect: with a new logo, revised name (now Connect Counselling Service) and also accreditation with BACP. Over the years, we have also refurbished and refreshed our premises – sometimes with help from volunteers, but also with help of funding from different groups.
In 2019 we have the capacity for 32 Counsellors to see individuals . There are eight supervision groups and four Supervisors. We have six Couples Counsellors and two Family Therapists with additional supervision for this important work.
In 2018, we held 2,338 sessions and had 196 new clients attending an initial appointment with a counsellor.
Looking Forward
Connect remains open for the vulnerable, the hurting and for those whose past or present impacts their life and potentially their future. Through counselling, we can offer hope and support to those struggling and help them find a way through their concerns. In late 2019 our BACP accreditation for professional counselling was renewed for a further 5 years. By God's grace, Connect will remain here for many years to come!